Anti-Reflective Coatings
Do you want a standard lens or a clearer lens?
There are a number of basic reflections that present reflected images to the wearer that can be disturbing.
Under certain circumstances a light or object from behind can be seen by the spectacle wearer.
Spectrum separation / streak reflections on bifocal lenses.
Reflections of the wearers own eye and peripheral power rings in high myopes (minus lenses) (ghosting)
Glare from headlights of on-coming traffic etc. at night. Halo effect around light sources.
Reflections on the front of a lens (especially flatter forms) that obscure the wearers' eyes.
Anti-reflective coatings reduce or eliminate all of the above conditions.
Today's coatings are a far cry from the early, single layer AR's with their quite obvious, purple/blue 'bloom'. They were difficult to clean, scratched easily and even flaked off at times! Modern, top quality coatings are easy to clean, anti-scratch and anti-glare with pale emerald/gold or blue/green blooms. Superior quality coatings are also anti-smudge, containing layers of Teflon® or Scotchguard® Protector which repels dirt, dust, fingerprints, oil, grease and water, making cleaning the lenses even easier than ever.
Anti-reflective coatings improve both the vision through the lenses and the appearance of the glasses, when an anti-reflective coating (also called AR or Multi AR, MAR coating) is applied. Whether you are working in front of a computer screen or driving at night, the reflections on the screen can reduce contrast and the lights of the oncoming traffic can dazzle you. A superior quality coating, such as Essilors Crizal® Alize™ with Scotchguard® can eliminate visual discomfort by reducing reflections by 80% compared with standard, uncoated lenses.
Anti reflective coatings are also found on binocular, microscopes and camera lenses. They consist of several layers of metal oxides applied to the front and back lens surfaces. Because of the layering effect, AR coatings sometimes have a hint of green, blue or purple color, depending on the individual manufacturer's formula. Each layer is scientifically calculated to block reflected light. The result is that you'll see a reduction in glare, annoying reflections and halos around lights, a reduction in both internal and external reflections on the lenses themselves, creating a pleasant cosmetic appearance. On high minus lenses reflections appear as rings that make lenses look thick. External reflections veil your eyes from a clear, complete view when someone is looking at you. It's also fair to say that many of the organic, high index lenses on the market today simply wouldn't be available without coating technology. This is because thinner, high index lenses actually reflect more light. So much so, that coating's come as standard on many high index lenses and they can not be purchased without it.
Some care needs to be taken when cleaning coated lenses. Please follow the manufacturers or your optician recommendations.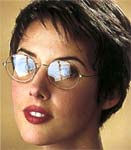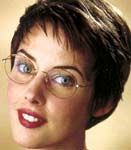 Lenses without anti-reflective coating.
Lenses with anti-reflective coating.
Photos provided by Essilor